Jason Morrella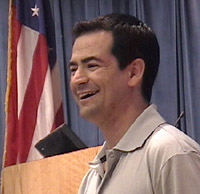 Regional Director
FIRST Robotics Competition
San Jose, California
What is your occupation and where do you work?
I am a Regional Director for the FIRST (For Inspiration and Recognition of Science and Technology) Robotics Competition, working out of San Jose, California. I am in charge of the FIRST competitions in California, Arizona, Washington, Colorado, and also supporting teams from those and other surrounding states. I also help coach and teach a high school robotics team in San Jose, CA.
What subjects and ages do you teach?
I have taught High School English, Social Studies, and Robotics. I currently co-teach a FIRST Robotics class for grades 9-12.
What were your favorite subjects when you were in school?
My favorite subjects in school were Social Studies, History, English, Art, and P.E. for a few reasons. First, I really liked learning about and discussing current social events which I thought affected the world and my life. Second, I enjoyed being able to create and make something: hands-on projects in which I saw a result from what I was learning. Third, I liked sports and liked competition, and because I got to be a part of a team, I was able to challenge myself to improve, and test myself against others.
What were your least favorite or most difficult subjects?
I would say that Science and Math subjects were the most difficult for me, but not because I didn't like them. I found it difficult to motivate myself to do the studying or work needed because the subjects just didn't seem exciting or interesting enough. If my schools had the FIRST Robotics Program and a FIRST Team I could participate on when I was a student, where I was able to build things and see what I was learning actually work, I know Science and Math probably would have been two of my favorite subjects.
Which subjects helped you most towards your present career and life goals?
Almost every subject helped me in my present career and life goals, because the most important things in life are the ability to think, to question, to find solutions, to be open minded, and to work with others -- skills which every subject helped prepare me for.
What is FIRST Robotics?
FIRST Robotics has two primary programs: the FIRST Robotics Competition for High School students and the FIRST Lego League program for grades 4-8. The FIRST Robotics season for High School teams starts in January each year, when a new game and field are unveiled to every team in the nation. Teams then have 6 weeks to design and build their robots, and then they compete in Regional Tournaments around the country in March and April. The World Championships are held at the Disney Epcot Center in Orlando, Florida at the end of April each year. The robots can be up to 5 feet tall, weigh up to 130 pounds, and have to be able to accomplish a variety of tasks and challenges while competing against other robots. They compete on a field about the size of a basketball court. The competition is extreme, challenging, and as exciting as any traditional sporting event.
Are your programs primarily after-school or vacation classes or are they part of the school curriculum?
Many High Schools have made FIRST Robotics classes part of their school curriculum, while many others have the programs work primarily after school very much like the sports teams. The FLL program is primarily an after school project, but some schools do incorporate teams into their class curriculums.
How did you get involved in with FIRST?
I was teaching English and Social Studies at a High School in San Jose, for At-Risk students who were not doing well at the regular High Schools, when I agreed to help coach a Robotics team at our school with help from NASA. They needed a teacher to help start the program, or the school wouldn't be able to do it -- so I volunteered. It ended up being the best program and best competition I had ever been a part of in any academic or sports setting. The average GPA of the students on our team skyrocketed. The attitude of the students changed. They learned to respect and trust other students on their team and on other teams. They learned that they could learn or accomplish anything if they didn't give up and worked hard, and they all ended up graduating. Most went on to college, and some even work for NASA now. After seeing how great the program was and how much of an impact it made on our students and our school, I joined FIRST to help grow the program in the western U.S. and to help schools start teams.
At what age can students get involved in FIRST robotics and competitions?
The FIRST Robotics Competition is primarily for High School students in grades 9-12. Nine through fourteen year olds can get involved in the FIRST Lego League program and competitions.
How much does it cost for a school to have a team?
The costs vary from school to school, depending on how ambitious the team may be, how many events they want to compete in, if they need to travel, and so on. But on average, a school can enter the program, build a robot, be competitive in a Regional Tournament, and have a successful year with a budget of about $8,000. There are many grants available to schools to help them start a team and help provide funding for their first year.
Is there any way a student can join a FIRST team if their school does not have a robotics program?
Many FIRST teams are happy to let students from other schools, which don't have robotics programs, join their teams. The best way is for interested students to find out which schools near them may have teams, then to contact those teams and ask if/how they could participate on the team.
Where do you get funding for your programs and how do you set them up?
For teams, the funding can come from many different sources. Most teams get some of their budget from their school. Other sources of funding can be from local companies, grants, student fundraisers, and any other creative ideas the team can come up with.
How can younger students prepare if they would someday like to participate in FIRST?
Younger students can participate in the FIRST Lego League program from ages 9-14, which will help them acquire very valuable programming, engineering, and problem solving skills to prepare them to be part of High School FIRST Robotics teams when they get older. Younger students can also be sure to do well and study hard in their Math and Science classes, learn computer skills, and learn to work well with others on a team -- all of which will help prepare them to be a part of a FIRST Robotics Team.
What are the advantages for students participating in FIRST and how does robotics enhance the learning experience and academics overall?
There are so many advantages of participating in FIRST. In addition to all the academic and educational value, one of the main aspects of the FIRST Robotics program is that it provides all the challenges, excitement, and competition that sports programs offer while at the same time promoting positive values of teamwork, respect, and non-violence. This is why I decided the FIRST program was so much better than some other technology programs: as a teacher, I do not think any school based program should promote violence or encourage students to destroy the creations of other schools and students. It is a bad message and a bad lesson for us to pass on to those who will lead the next generations, and I am proud that programs like FIRST realize how important a responsibility this is. Our world and our media show kids enough daily messages of destruction, death, and violence being used as the solution to problems. We don't need programs in school teaching or showing students that violence is fun, exciting, or the solution to problems.
Students on FIRST teams learn many skills such as programming, mechanical engineering, electrical engineering, business management, animation software programming, budget management, time management, how to work well on a team, and how to solve unique problems. Also, as I already mentioned, another big advantage of FIRST is that it promotes positive, non-violent values while encouraging students to both work with and compete against others, with respect, to find the best solutions.
How does robotics help young people toward future careers?
Another big advantage of participating in FIRST is that Colleges and Universities throughout the United States offer dedicated scholarships only to high school students who are on FIRST robotics teams. Last year over $2,000,000 of college scholarships were awarded to students because of their participation on FIRST teams, and that will increase to about $3,000,000 in 2003, and will continue to increase as the years go on.
Are very many girls involved in FIRST robotics?
More and more girls are participating on FIRST teams every year, as they find out the program is not only accessible to them, but that it is exciting, fun, challenging, and they can excel at it. Many all-girls schools have started teams in the past couple of years, and they have done extremely well. One of the great things about FIRST is it proves that everyone is equal, that everyone and anyone can succeed if they are motivated, inspired, and work hard enough.
Do you have a favorite quote that inspires you?
I have many quotes that I have found to be very enlightening and inspirational. One that comes to mind is from Ralph Waldo Emerson:
"Every person I meet is my superior in some way. In that, I learn from them."
The words may not be exact, but the meaning is exact -- that no one knows everything, that everyone knows something I do not, and that everyone can learn something from everyone.
Do you have any advice or thoughts that you would like to share with students around the world?
My main advice to students would be to always remain open minded and to remember that there is always more that we don't know than we do know. As long as we remember that, we will always be inspired to learn more, to listen to the opinions of others, and to share information so everyone will be better off.
- 17 August 2002