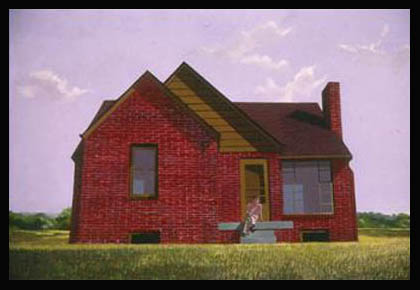 Portrait of My Father
Photo and text courtesy & copyright
Robert Olszewski and OlszewskiStudios.COM.
Caption by Robert Olszewski
As far as I'm concerned, this house had it all. The two-story red brick house sat on the front third of a huge country lot and had a commanding view of the fields and woods across the road which led down towards the Allegheny River. Our side of the road was sparsely populated with homes, but the other side of the road was au natural for miles either way. The land sloped away from us and down the mountain to the river.
My brother Ray and I shared the large second story bedroom that had a window facing our neighbors, the Lynch family, to the right. Next to our bedroom was a second smaller room that had a tiny window that faced the woods and connecting all of this to the stairway was an open hallway type area with a window that faced the left side of the property. These 3 windows became my portals to the world. The visual world I live in today, how I see things as an artist, began here.
Of the 3 windows, the one at the end of the hallway was my favorite. For some reason, it was low enough architecturally, to allow me to sit on the floor and comfortably lean on the window sill, giving a little boy, a commanding view of the fields, woods and the road that disappeared up over the hill. Even better, the gravel driveway was on this side leading up to the garage and this is where I could watch everyone come and go. So, the whole second story was ours and I spent my time checking out the world going from window to window.
Sometimes I would look out and see my dad, shirt off cutting the grass. Sometimes I would look out and see the land filled up with snow. I was maybe 4 years old when this began and about 8 when it came to an end. In 1955, Mom and Dad decided to sell their home and temporarily move into an apartment in Birdville with the idea of building another home in the near future. My happy feelings about this time were captured in this painting I did some years later. "Portrait of My Father" hangs in the entryway of our home and it makes me happy to see it each day.
~Robert Olszewski
| Home | Contact Us | Credits | Sitemap |
© 2007 - Imagiverse Educational Consortium