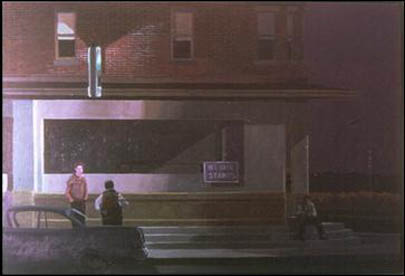 On the Corner
Photo courtesy & copyright
Robert Olszewski and OlszewskiStudios.COM.
Caption by Michelle Mock
This painting is a portrait that Bob did of his brother Ray. It is a special painting that he painted from memory. He created the painting in 1970 when he was taking a studio painting class to further his skills as a painter. He sold it to a fellow classmate and today regrets selling the painting and is looking to purchase it back (or get a better photograph) if he can locate it. On his website, Bob writes:
"In 1970, I was taking studio painting classes at night to further my skills when I painted this canvas capturing this memory. These classes were mostly attended by people working on advanced units. This particular class was held in Ventura, and the lady who purchased it was a fellow classmate who lived in Westlake, CA. I have no record of her name but luckily I did photograph the piece. It's not the best photo and suffers from camera flash glare on both the left and right. To compensate for the glare, I cut two prints in half and put them together to get the best image possible."
Ray Olszewski continues: "I was in the Navy then, already about 5 or 6 years. I was home many times and, in 1962, I had just come home for a 30 day leave when this was depicted. That is my buddy I'm with. His name is Vic Capaccioni. We graduated together from high school and were good high school buddies. He played Ralph Kramden (Jackie Gleason) and I played Ed Norton (Art Carney) of the Honeymooners. We had a great time doing those days. I used to do a great Milton Berle also. He had a couple of great characters. I used to also do a great Red Skelton. Loved those guys - all of them.
We both went in the Navy together, but Vic did not stay in and returned home to manage his Dad's fruit market. Unfortunately, Vic caught a devastating disease and passed away a couple of years ago. We use to hang on in Birdville where Bob depicts us standing "on the corner." There was a bowling alley or drug store there - I can't remember."
If you are the owner of this painting or know how Bob could contact the owner, please contact Ray Olszewski by clicking HERE or at OlszewskiStudios.COM. Some other lost art that Bob would like to find is described at: "Lost Vegas Art".
| Home | Contact Us | Credits | Sitemap |
© 2007 - Imagiverse Educational Consortium