Sebastien Babolat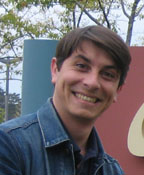 Cannes, France
Where were you born and where did you grow up? What were your favorite activities as a child?
I was born in Cannes and I grew up in Cannes and the surrounding area within about 15 miles from where I was born. I am really happy to have spent my youth near Cannes because we have everything one could need; the sea, the mountains, and is full of tourists speaking all different languages. It was a really good opportunity to expose oneself to the world.
Did you ever see celebrities (because of the film festival)?
I've already met celebrities walking down the street after school. But by the force of habit one doesn't get too preoccupied by it. After we see them every year in almost all the same places (and at the time, it didn't interest me much!).
What were your favorite activities as a child?
When I was little, my favorite activity was running. I grew up on the outskirts of a forest and spent my days walking, running or biking through the woods! I live in a little village, 15 minutes outside of Cannes. I moved there when I was six. My village is called les Adrets de l'Esterel (les Adrets means the southern side of a hill, where there is the most the sun!). It is hidden in the middle of a forest and there are 2000 inhabitants in the town. I really like it there because it is quiet and everyone knows each other. What's nice is that we are not very far from Cannes or Nice, but at least no one comes and it's not too packed with people during the summer.
When did you start learning English?
I started to learn English when I was 9 years old. The teacher sang us songs. We learned the alphabet and the numbers. Since then, I had courses in English until the end of high school. It was required! But I always really liked the language. My mother read stories to my brother and me in English once a week. I think that this is what made me interested in languages. She always told us that knowing more than one language is important in life. In addition, living in a very touristy region, knowing English is essential!
How did your English change as a result of living in the U.S.?
I have been in the United States for three years now. I had a base in English from school but living here, has permitted me to improve my level of comprehension and expression. Now, I have gotten to the point where I understand easily, and can make myself understood even if sometimes people aren't used to my accent (it's very strong!).
Did you find it difficult to learn English?
Personally, I find that the English language is relatively easy but it is maybe because I like it and I love to translate expressions between my native language (French) and English all the time! Today, I start to even have trouble expressing myself in French (I look for certain words, how to phrase things...)! I have to find some fellow Frenchmen with which I can use my native tongue!
When did you get the idea to develop a website to help people learn French?
The idea to create a podcast came to me when I had just moved to the US. I had gotten an internship in a Californian company to learn about accounting in the US. It wasn't the greatest job, but it was a good opportunity to be in a foreign country and perfect the language. Since I was a little bored during the evenings and weekends (there are not a lot of young people where I was living!) and I wanted to relearn Spanish (which I had learned in school and have forgotten a lot since then!).
I was looking for a podcast or a radio program, like NPR or the BBC, but with music to pass the time. Out of curiosity, I looked to see if there was one in French...since there wasn't any, I started my own. And as they say, the rest is history. :)
Did you have any teachers who made a memorable impact on your education?
Not really. Certain teachers were better than others, but the French education system is not made for having a special relationship with a professor or a teacher, and doesn't allow you to go too far outside the box. But for the most part, my teachers were really nice and patient.
What were your least favorite or most difficult subjects in school?
I didn't really have any favorite classes (except maybe economics), but on the other hand, there were some that I hated: math and sports! I have never really liked the sciences (physics and natural sciences) and math. And I have never really been athletic either (I don't like the competition!).
For a long time I got really bad grades in these subjects, until one day when we changed teachers, to one that was a better teacher than his predecessors! Later on, I realized the importance of Math when because I entered the field of accounting. Foreign languages (English as the first language and Spanish as the second) were also vital: all the businesses ask today that the employees speak at least English, because of the number of foreign tourists that live in France (at least in the south!)
Did you live in any other countries or experience other cultures or languages as a child?
Other than the US and France, I have not lived in another country. I have traveled in Ireland and in England during the summer when I was younger, to perfect my English. Being young, and living in the south [of France], I was always in contact with foreigners (Italians, English and Spanish for the most part) and that was maybe part of the reason that I put more importance on learning languages. Growing up in a small town, but at the same time being close to a big city (like Cannes or Nice) was also important, I think. People know each other and there is more human contact than growing up in a big city.
Do you speak any other languages besides English and French?
Speaking, that may be a bit of a stretch! I learned Spanish in middle school and college. It was choice for my second foreign language. I didn't want to take Italian - I don't know why but Spanish was always interesting to me. I can understand, if someone speaks slowly and I can also read. But to speak is another story. I have decided to relearn and be as confident in Spanish as I am in English. It is my objective for the next year, at least!
As a child, what did you want to be when you grew up?
When I was younger, I wanted to be either a teacher or a police detective. The first choice won out (also because of the fact that I was too little to enter the national police force in France. I am 5 centimeters too short!). But my path took me to accounting (I like it, but don't love it). But at the same time, I was continuing my studies to become an economics and law professor either in a high school or in a university or to become a teacher for small children (either preschool or kindergarten). As soon as I had the chance to go back to school in the US and took the opportunity to finally realize my dream to be a teacher.
When did you decide that you wanted to become a teacher?
I always worked or was in contact with kids (I was a volunteer counselor for a boys and girls scouts organization for 8 years). I also worked as a nanny or babysitter and I now volunteer in some schools in the US. The fact that young children want to learn and know everything inspires me!
To know and be attentive, open to the world and open minded, to other languages or cultures, is very important, especially at a young age. I sincerely think that to learn another language, even if just a few words, at a young age, is very important. It is also easier later, to be able to like other languages and to learn that language if, as early as preschool, language is taught.
Where would you like to teach and what kind of school would you want to teach in?
I really want to open a preschool, and no matter where I open it, I would like to take kids whose parents don't necessarily have money. Education should be the same for everyone no matter what people's income (I would like to open a "head start" school).
What are you currently studying?
Actually I just started my studies at the university. The courses that I took in France were so different that I had to start over. My short term objective is to obtain an Associate Degree, then continue on to get a BA (in ECSE-Early Childhood Special Education). My objective will be to open, like I said, a "Head Start" school and to later work with handicapped children. I would also like to work with adolescents and create an after school program, and have the possibility to create a camp during the summer where they can travel to Europe.
What are the biggest holidays and cultural celebrations in France?
The biggest holidays in France are the national holiday (Bastille Day - July 14) and Christmas. A lot of people are on vacation for July 14th (because it is during the summer holiday). All the cities and towns organize a ball (a public ball) that is organized by the fire fighters! It's a tradition. And practically all the cities organize fireworks. There are never fireworks set off by individuals. When we celebrate Christmas, it's not in a religious sense - every (or practically every) French family, regardless of their religion, celebrates Christmas and gives gifts to their children. It's like that - we don't see it as a religious holiday but as a national holiday that everyone celebrates. For Easter, it's a similar situation - it's not really a religious holiday. The bells fly from Italy above France and let eggs fall into the gardens and the balconies (and it's up to the children to go out and get them!).
In my village there is a particular holiday that happens every year: it's the reenactment of the arrest and death sentence of Gaspard de Besse (1757-1781). He was like the Robin Hood of Provence. He used to hide in the forest of the Esterel. And when a carriage approached, he stole the riches and redistributed them to the poor. He hid himself in a rest stop for horses, "L'Auberge des Adrets" and was arrested a little bit later. A bike race is organized in his name (http://www.provenceweb.fr/83/besse/journees.htm and http://crcagnes.free.fr/spip/spip.php?article75). A lot of towns celebrate Gaspard de Besse and offer tourists reenactments, in costume from the time period.
Do you have any advice for the students reading this interview?
One can't understand someone's culture, their way of living, and their habits, if one doesn't know their language. We always talk about the language barrier, but if this barrier falls, people can understand each other. It's also a way to open oneself to the world and respect what others have learned. When I travel, I live the same way as in the country where I am. I learn some words and phrases and adapt myself. After all it's a form of respect and a cultural discovery.
Do you have a favorite quote (or a favorite person) that inspires you?
I have a favorite quote, it's that which I use for the podcast. It comes from Voltaire:
La genie de notre langue est la clarté.
(The genius of our language is its clarity.)
This quote summarizes the difficulty but also the facility and the logic of the French language. It's hard to learn and master but once this is passed, it is a logical language which has its rules.
If there is one person that I admire, it is Emile Zola: for his strong stances. When Dreyfus was accused he wrote "I accuse" in order to defend him. And for his rigor, when he wrote 20 books about the Rougon-Macquart family. It's a form of honesty and perseverance in his ideas and his work.
- 16 August 2007