David Flatau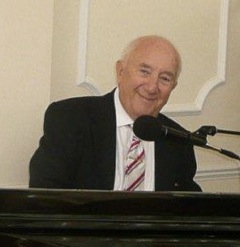 Musician/Retired Educator
Exeter, United Kingdom
Where did you grow up and what did you like to do as a young child?
I grew up in the East End of London in Brick Lane, and we lived in a tenement building, with scullery, lounge, and two bedrooms. Not quite Dickensian in its poverty, but bad enough.
All my sisters (three) learnt to play piano and my brother the violin. I used to like playing with a book of magic my father bought me and riding my blue two-wheeled bicycle at six years of age.
When did you start taking music lessons?
My first lessons commenced in Kings Lynn Norfolk, during the War, when I was eleven years old.
Did you come from a musical family?
My grandmother, who was born in Poland and came over in the late 19 century. She was a good violinist so I was told by my mother.
Did you practice a lot?
No, I did not practise a great deal. I left Kings Lynn, for a Jewish Hostel in Dawlish Devon, and continued my piano lessons there for a short while, but I was already composing simple piano pieces and one or two songs.
What advice do you have for children and parents when it comes to music and music lessons for children?
Unless they are specifically gifted, no need to start them young. Eight years old is soon enough.
Are your children musical?
Yes, they are. My eldest son, Theo, had a beautiful voice. Aged six years, he won a silver medal at a music festival in St. Albans. He sang "The Water is Wide" without piano accompaniment. Aged 13, his voice broke and sadly it never came back. Justin, my youngest son, was the youngest French horn player in the National Jazz Youth Orchestra, and also played trumpet in a brass band. He and his wife Claire have three children. Ben is a computer buff, Sam plays with his father in a brass band, and Rebecca is a gifted young girl with a lovely voice and had one of the leads in a local drama school in Newcastle Upon Tyne and also one of the leading roles in a local drama school production "Bugsy Malone".
What were your favorite subjects and least favorite subjects in school?
You are asking me to go back a long way..... 1934 in fact. The schools in the East End of London, near Brick Lane were Virginia Road Infant School and Rochelle Street School for Juniors. I seem to recall I liked painting, but was a sickly child and in and out of the hospital. So my educational roots were sparse.
Maths for me were the most difficult. I was once caned on each hand for getting a sum wrong. My mother came up to the school, and threatened the teacher, after which he was much less severe with me. The war in a way was my savior. We, my sisters and I, moved to Kings Lynn, and fresh air.... which cured my embryonic TB (tuberculosis) problems. We attended Mansfield Street Central School while in Kings Lynn. Later, at Southwark Central School, a former library in Newton Abbott Devon, we learned all subjects including French and shorthand and typing. I hated bookkeeping, and remember having a whole page torn out by the teacher for getting it wrong.
What was it like to grow up during World War II?
Moving away to the country, was a stark contrast from the streets of the East End, as you can well imagine. Kings Lynn Norfolk was a seafaring town, famous for its beetroot factory. I remember the mud banks on the river Ouse and the wonderful smell of fresh air. The move from London was fraught with the unknown, and rather scary for four young children.
I was 11 when the war broke out, and returned from the Jewish Hostel in Dawlish in 1942. My parents were still living in the East End of London, and when my youngest sister Mildred (Milly) and I returned to London, we still had to endure the buzz bombs and V1 rockets. We did not live in the East End for the duration of the war. My eldest brother, Sidney, found a lovely Tudor-style cottage in West Acton, near Ealing Broadway Middlesex which my father rented. It had four bedrooms. One, which my sister Mildred occupied, had a small balcony. I had a small bedroom at the top of the house. The road outside had lovely rose gardens. It was like being in heaven!! It was such a contrast from the East End of London.
Was it difficult to leave your parents and your home? Did all the children move together to the country? It sounds almost like a scene from The Lion the Witch and the Wardrobe by C. S. Lewis!
It was no easy matter to leave ones' parents to live with strangers. I was fortunate as my foster parents Mr. and Mrs. Smith were kindness itself. Our parents did come and visit us both in Kings Lynn, and at the Jewish Hostel, when I had my Bar Mitzvah at the age of 13.
My elder brother was 16 when the war broke out and was soon to be enlisted for army duties. My eldest sister, Sonia, later married and went to live in Geneva, Switzerland, where my youngest sister Milly still lives.
I never read the book The Lion the Witch and the Wardrobe, nor saw the movie, however I do recall our excitement on arriving in Dawlish via several tunnels and the fact that the station was right on the edge of the sea. The hostel itself was a very large detached house, with a medium sized forecourt, but a lovely rear garden, which we loved to play in. The beach was about a 20 minutes' walk away, so it was a huge contrast to the scenery and life, as I remember it, in the East End of London. When my sister Mildred and I left for Dawlish, it was at the very beginning of the war and the days of the Blitz evident in Narnia were a long way away in 1939. We were all given labels to wear, and given gas masks, but there was no panic.
Our stay at the Jewish hostel in Devon Dawlish made a deep impression on me and Milly, and we still talk about it. One of the children moved to Canada. Edgar was a gifted pianist and wrote wonderful poems. I set one of his poems "I had a Little Motor Car" to music. Edgar was 9 years old at the time, and I was 12. A few years ago, we were able to make contact with one another, thanks to the man responsible for us at that time: Asher Tarmon, aged 90, who wrote to me about Edgar Waldes, or Chanan as he became known.
After the war, when still in my teens, I went to visit Mr. and Mrs. Smith. Everything seemed so much smaller. They lived in a simple two-bed semi-detached cottage, with a small front garden.
I ought to mention another sister Inez, who sadly died at 39 years of age from heart problems. I believe she was evacuated with us too, but Sonia and Inez did not remain long at the home of their foster parents, as they were unhappy there. Another sister Rhoda, died aged five from meningitis. We all loved her. She was a beautiful little girl.
[Note From Imagiverse: When Mr. Flatau described leaving London and moving to the country at age 11 when World War II broke out, I thought immediately of the book by C.S. Lewis: The Chronicles of Narnia, The Lion the Witch and the Wardrobe. In that story, the Pevensie children were evacuated during the Blitz and were also sent out of the city for their safety.]
What did you dream of becoming when you grew up?
I wanted to be a concert pianist... but later, after attending the Guildhall School of Music aged 21 as a part-time student, I had dreams of becoming a songwriter. I did a variety of jobs; from messenger boy in the Evening Standard newspaper in London aged 14, to selling shoes, working for an advertising company, and as a telephone typist and caption writer in Fleet Street, London. I commenced my teaching career aged 44 years.
What subjects did you teach and what ages were your students?
I loved teaching my choir of primary school children, aged 7-11, getting them to write poetry, and producing some good artwork. We even produced our own version of Amahl & The Night Visitors, creating a small theatre, and cut-out cardboard figures using a tape cassette for the songs. I taught for 14 years.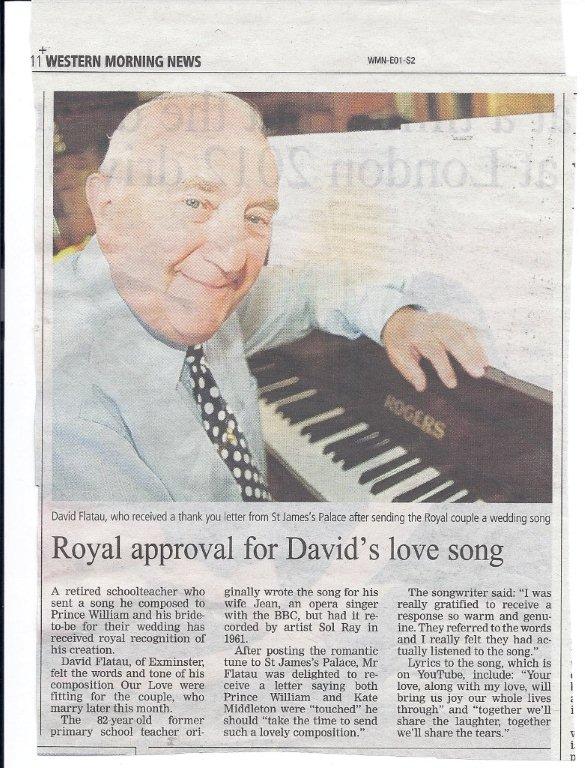 When did you start composing music?
My very first song was written when I was 11, in Kings Lynn. My foster parents had a piano. Their son John was very musical, and he was rather jealous when I began to learn to play the piano. The song I wrote was dedicated to my mother and called "Oh Why Did You Leave Me"... and was country and western, although I did not understand the term then. I wrote it when I was a part-time student at the Guildhall School of Music, in London. I was in my early twenties. I recall my professor of piano, Cimbro Martin, who said it was the best song I had written to date. Many years later I added the middle section, "Together we'll share the laughter". I dedicated the song to my former wife, Joanne Brown, who broadcast the song on the Max Jaffa programme on BBC. He said, "your husband must love you very much to have written such a beautiful song". I still have a recording of that broadcast.
I also dedicated the song to the late Princess Diana on her wedding day and received a letter of thanks from Prince Charles and Diana. Most recently, I sent a copy to Prince William and Kate Middleton in celebration of their forthcoming marriage.
Did you have extensive musical training and education?
I was never a full-time music student, so it was hard. I passed all the grade piano exams, up to Gr. 8, (performer examinations). I studied theory up to Gr. 5, and had some private harmony lessons, but found it very difficult.
Where do you start when you want to compose a song? Do you also write the lyrics?
Writing a song of any substance takes years, and one needs a great deal of experience. I always wrote my own lyrics, but occasionally set music to other writers, including a beautiful poem by the late David Weatherford from the USA called Slow Dance. I also set the poem of Dylan Thomas, "Do not go gentle into that Good Night", and sent a copy to the famous mezzo-soprano Joyce DiDonato, who wrote to say she found it a beautiful setting. It certainly was a challenge harmonically I recently received an email from her saying she would like to meet me following her performance of the Massenet opera "Cinderella" at the Royal Opera House Covent Garden, London.
You are turning 83 years young this year. Do you use computers a great deal to promote your music?
I am no expert but can use emails, Facebook, YouTube and print photos, etc. A professional photographer in Exeter set up my website and makes additions from time to time. My son Theo installed all my songs onto YouTube.
What are your musicals, "30,000 Buttons" and "The Rainbow Girl", about? Did you direct these musicals yourself?
"30,000 Buttons" is about London's First Pearly King, who sewed pearly buttons on his suit to collect money for charities. He collected thousands of pounds, but died a pauper. People from all over London attended his funeral. Hundreds of "Pearlies" and their families and relatives arrived in coaches and thousands of others filled the streets and the mounted police were sent in to control the crowds. Henry Croft was buried at St. Pancras Cemetery.
"The Rainbow Girl" is an adaptation from the famous novel Pollyanna by Eleanor H. Porter. Haley Mills, a British actress, starred in the American film, and its story is well-known. I wrote the scripts myself, but would have preferred someone with more theatre experience. A friend typed them out for me. No, I did not direct them myself. Both were produced by senior schools and private schools, and once they work on the production, they are inclined to leave its creator out on a limb.....
Do you have any CDs or sheet music available for purchase?
Yes, I have a website! My site is DavidFlatau.co.uk where you can order online.
How did you become, "A man with a song in his heart"?
I have always had a song in my heart... even as a young child my parents would bang on the wall to ask me to be quiet and stop singing. I was around 5 years old then.
When I had my five by-pass operation in 1970, I mentioned to the surgeons that I wrote songs. An article in a local newspaper had printed some news about my songs, which were shown by the nurses. Shortly before I was wheeled down for the operation I said, "If you find a song in my heart, would you please keep it?" Later, they said "We did find a song in your heart … and it was a hit song".
What would you like to say to the students who are reading this interview?
Follow your own path. Each human being is unique.
Do you have a favorite quote?
I worked in Fleet Street for my boss who sent metal printing blocks to a Maltese Newspaper. I was a shorthand typist then. When I was about to leave the firm, a charming elderly lady called Mrs. Ovington, said to me, "Begin as you mean to go on." My other favourite quote is from the Australian film "Strictly Ballroom", when Fran's mother tells her, "A life lived in fear, is a life half lived." That still rings true for me.
- 18 April 2011