Dan Sindel
Web/Graphic Designer
California, USA

What types of jobs did you have leading to your current occupation?
I had, for many years, worked in the print industry in various capacities. By watching over the shoulders of the Mac operators, I taught myself print layout. Working on my Mac at home prepared me for lots of side work in design.
When did you decide you wanted to work as a freelance web/graphic designer?
Around the year 2000 I was working full time on the local Naval bases as a contractor deploying and maintaining computers. It was one of the coolest jobs I ever held, as I got to see the F-16 fighter planes take off and land every single day. All the while, I was juggling side projects with the Web/graphic design business I was running. One day it just became apparent that I could not do both at the same time as the side work was increasing. It seemed like a great idea to devote myself to it full time and give it the attention it needed. It was great timing. As one door closed another opened.
What education path did you take to lead you to your work with web design and music?
The web design aspect was a natural evolution coming from the print world, ironically I remember seeing some of the very first computers connected to the Internet. Most of you are probably too young to remember those old, ugly monochrome monitors! At that point in time I was thoroughly unimpressed. Coming from the print world I was focused on the "look" and not the functionality of what the Internet was. I certainly do think I missed a golden opportunity there, as I could have probably done very well in the early days of the Silicon Valley/Tech Industry.
I had taken a few web designer courses along the way and have also worked very hard to obtain MCSE (Microsoft Certified Systems Engineer) status as well. I have also been certified as a Pro Tools Operator and want to become much better at my craft of producing music using my computers. Every so often I take a certification program and always seem to be reading some sort of software or hardware manual that is either music- or PC-related. I guess you could say almost everything I end up doing is computer-related and somewhat creative.
How did you come up with the EZGTR name for your online guitar classes?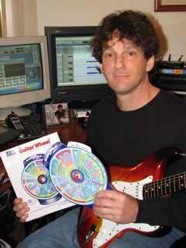 Within 10 minutes of acquiring the EZGTR.com domain, I found (much to my astonishment) the username EZGTR was wide open on YouTube as well as MySpace, which almost knocked me out of my chair!!! I just could not believe it. It was as if the Red Sea had just parted for me and the name was just sitting there waiting for me!
Being a web designer and having a pretty good grasp of current web/multimedia technologies certainly helped as I built the site from ground up. I designed the logo and branded the overall look and feel. Not having to rely on someone else in the design process was a great relief both financially and artistically.
What are some of the specialized hardware and software that you use for your music?
One of the current products I am extremely excited about is the AXON (polyphonic) Guitar-to-MIDI converter. This product allows me to connect my guitar to the computer and access the same synthesizer sounds a keyboard would, it is "most amazing" to hear a guitar sound just like a cathedral church organ or a violin. I have also used the SONUUS G2M (monophonic) Guitar-to-MIDI converter.
I have started to produce demo videos for these musical manufactures who have endorsed me with their products. I am also very excited to be working with the good folks over at Peterson Tuners who make the most precise and accurate (Hardware & Software) tuning instruments in the world.
I will soon begin to work with NotionMusic who create notation software (guitar and orchestral). That should be an interesting venture as NotionMusic was founded by the renowned composer and programmer, Dr. Jack M. Jarrett (a former head of the Composition Department at Berklee College of Music).
Are your demo videos available for viewing online?
Absolutely, I have a few different accounts on YouTube
http://www.youtube.com/DanSindel
http://www.youtube.com/user/EZGTR
http://www.youtube.com/halipino
The EZGTR page has all the available Pachelbel Canon in D lessons (so do the other ones and many other silly clips).
As the people over at Apple would say... Are you a Mac or a PC?
I use both and each platform serves a different purpose. I had always been a staunch supporter of Apple ever since I bought my first Mac 2si way back around 1991 but unfortunately the business world runs on PC so one day around Y2K I picked up the white flag and surrendered to the Dark Side (Microsoft). Macs have always been notoriously expensive compared to what you can get in a PC (which is a benefit) as you can build your own PC for half the price.
Digidesign's Pro Tools is an application (a.k.a. DAW – Digital Audio Workstation) that turns your computer into a recording studio. It is the recording and movie industry's standard and can be found in most major million dollar studios all the way to a scaled down setup in a bedroom. Pro Tools also requires that you use a special Digidesign hardware interface in order to get the sound in and out of the computer. It is quite amazing really and I use it primarily to record my "Symphonic Guitar" orchestrations but the software can be used for many different things such as mixing sound for a TV show or a blockbuster Hollywood Movie and chances are your favorite bands music has been recorded using Pro Tools.
Do you have enough time to pursue your music profession or do you have to put that in the category of hobby?
That is a mixed bag and "if there were only enough hours in the day", but yes I make sure to devote a minimum of a few hours a day to music as a career path while still trying to "keep the lights on" so to speak. Teaching guitar, creating product videos, promoting on the net and recording can absorb the entire day if you let it.
Monetizing the situation is a bit tricky but I refuse to "give up the dream" of being able to shift gears and make music/the arts a full time occupation. As of this writing I am going back into the catalog of standards and classic rock songs and gearing up to work as a session/working musician which is something I never really desired years ago but my attitude has changed and all I can say is "playing music is much better than digging a ditch".
In your other interview, you mentioned that you could go on for days naming your "musical influences". In addition to your mother, and those previously named, who are your musical influences?
Okay, this is a partial list, as this could possibly go on forever!!! In no particular order of preference:
Guitar players: Steve Howe, Jeff Beck, David Gilmour, Jimmy Page, Michael Schenker, Al Dimeola, Ted Greene, Pete Townsend, Ritchie Blackmore, Alex Lifeson, Jimi Hendrix, Brian May, Django Reinhardt, Robin Trower, Frank Marino, Akira Takasaki, Buck Dharma, Steve Hackett, Julian Bream, Andres Segovia, Carlos Montoya, Chet Atkins, Les Paul, Phil Keaggy, Joe Pass, George Benson, Charlie Christian, Tal Farlow, WesMontgomery, Lenny Breau, Steve Morse, Greg Lake, Glen Tipton, Frank Gambale, Joe Satriani, Steve Vai, Dave Prichard, Phil Sandoval, Carlos Santana, Robert Fripp, John McLaughlin, Terry Kath, Peter Frampton, Rory Gallagher, Stevie Ray Vaughn, Eric Clapton, Davey Johnson, Frank Zappa, Johnny Winter, Neil Young, Joe Perry, Rick Derringer, Ronnie Montrose, Eric Johnson, Pat Metheny, Robben Ford, Lee Ritenour, Joe Walsh, Allen Holdsworth, Martin Barre, Tony Iommi, Rick Nielson, Duane Allman, Dicky Betts, Billy Gibbons, Tom Scholz, Mathias Jabs, Uli Jon Roth, Rik Emmett, Neil Schon, Randy Rhoads, Doyle Dykes, Johnny Hiland...
Bass Players: Chris Squire, Geddy Lee, John Paul Jones, Stanley Clarke, Joey Vera, Cliff Burton, Mike Rutherford, Ray Brown, Steve Harris, Tony Levin, Jaco Pastorious, John Entwistle, Mike Rutherford
Keyboardists: Keith Emerson, Rick Wakeman, Patrick Moraz, Herbie Hancock, Rick Wright, Jon Lord, Tony Hymas, Edgar Winter, Tony Banks, Joe Zawinul, David Sparkman
Drummers: John Bonham, Neil Peart, Bill Bruford, Alan White, Cozy Powell, Carl Palmer, Ian Paice, Tommy Aldridge, Billy Cobham, Phil Collins, John Tempesta, Gonzo, Roger Taylor, Terry Bozzio, Mitch Mitchell, Gene Krupa, Chick Webb, Buddy Rich, Ed Shaughnessy
Big Band Leaders: Duke Ellington, Count Basie, Benny Goodman, Artie Shaw, Glenn Miller, Jimmy & Tommy Dorsey, Les Brown, Earl Hines
Horn Players: Louis Armstrong, John Coltrane, Dizzy Gillespie, Charlie Parker, Harry James, Miles Davis, Al Hirt, Herb Albert, Lester Young, Coleman Hawkins, Bix Beiderbecke, Wynton Marsalis, Ray Anthony, Dave Koz
Composers: Johann Sebastian Bach, Ludwig van Beethoven, Wolfgang Amadeus Mozart, Edvard Grieg, Pytor Ilyich Tchaikovsky, Nikolai Andreyevich Rimsky-Korsakov, Amar Khatchurian, Antonio Vivaldi, Claude Debussy, Igor Stravinsky, John Philip Sousa...
A special thanks goes out to Ken Burns for his great documentary JAZZ. Now I am an avid Big Band/Swing enthusiast and can add this exciting era of music to my list of influences.
- 1 June 2009