Constance Clowers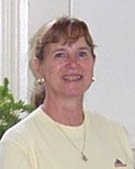 Living Historian
California, USA
Did you have any teachers who made a memorable impact on your education?
My favorite teacher from school was my 7th grade history teacher. He was always there, helped me to understand history, and encouraged all the students to read and study. He was a very positive influence on me.
What were your favorite subjects in school?
My favorite subjects were math, history, home economics, and sports.
Where did you grow up?
I grew up in Germany. Growing up, I never realized the history that surrounded me. Looking back, I was surrounded by centuries of history, arts, and music. I grew up in the country away from the cities. I enjoyed reading, bicycling, swimming, and playing soccer with my friends.
When did you learn to sew?
I was seven years old. Living in the country, we had to make our own clothes. My grandmother was a master seamstress and taught me all of her techniques, how to use my imagination to make garments, and always was there to help me learn.
What do you enjoy most about sewing?
I enjoyed spending time with my grandmother who made sewing fun. She was a terrific teacher, mentor, and the best grandmother you could ask for.
Do you work from patterns or make your own?
Both. If I need something and it exists, I use a pattern. Otherwise, I study what I want, and make my own patterns. I used to sew professionally and occasionally make special orders for my friends.
How did you become interested in doing historical portrayals?
One of the earliest movies I remember seeing was "Gone With The Wind." I really enjoyed the clothing of the period. I never realized some day I would be dressing as they did. Later as my husband began appearing as a historical figure, it was a natural transition for me to portray his wife. I decided not to appear as a "wall dressing" but to represent that person in presentations.
What do you like best about this work?
Educating the public about the garments of the period, the emerging role that women played during the Civil War, and the bringing back to life a great woman - Julia Dent Grant. I admire her strength, her devotion to her husband and children, and the way she raised the status of the First Lady of this country.
In what ways are you like Mrs. Grant?
My strength and devotion to my family. She placed her family first, but she was no follower. She was very much an equal to her husband and was his counsel, adviser, and best friend. Julia suffered from strabismus, a medical condition where one eye is turned slightly in. I admire her because not only did she overcome this condition but was a charming woman that dazzled the royalty of Europe, India, Asia and of course, the United States.
How are you different from Julia Dent Grant?
Our backgrounds are different but I believe I am evolving into her. I study about her, read her memoirs and other books about her. She was a renaissance woman in the age where women where supposed to be seen and not heard.
Would you ever want your husband to be President?
You bet! Just give me a chance to be in the White House and I would restore it to the age of grace and dignity. No scandals in our White House.
Would you rather be President yourself?
No, I would be quite satisfied being the First Lady. More power than the President…after all, who rules the nest?
Did you live in any other countries or experience other cultures or languages as a child?
Germany and of course the United States. When I first arrived here, the US was a foreign country with a different culture and language. By the way, Julia Grant spoke fluent German. I sometimes wonder if we would have met, we would have been quite comfortable speaking either German or English to each other. I made it a point to become fluent in English, to learn the customs of this country, and to be recognized as an American.
As a child, what did you want to be when you grew up?
I always wanted to sew. I loved reading about history. Now I do both…and love it.
What were your least favorite or most difficult subjects in school?
Chemistry, Physics, and advanced mathematics. I knew what I wanted to do in life and knew that I would have absolutely no use for those subjects. Looking back, I was right.
How did you cope with any classes that you did not do well in?
I studied and did the best I could. I wasn't great but I passed with nice grades.
How did you get to be doing the job you are doing now?
I was drafted! My husband became so involved in the Civil War, I became part of it too. Since I am retired from work, I find that I'm working more as a seamstress now than when I worked for various companies. Besides, I sew and make what I want and what I like.
What was you education path and what were some of your past jobs?
I completed high school and a year of business school. I've worked for an airline, private secretary, and financial adviser.
What was your first job like in your chosen career?
Wardrobe department at Knott's Berry Farm. I enjoyed making costumes for western characters, Revolutionary War, show girls, and Halloween Haunt.
If you could relive your life, is here anything you would have liked to do different?
Well, I'm really happy where I am now. I have enjoyed everything I done, places I've been to, and people I've met. I'm really happy with who I am and where I am in life. I think I'm having far more fun now than ever before.
Do you have any advice for the students reading this interview?
Find what you are best at, your interests, and do it! Don't give up, and when you become what you want, be the best you can be .
Do you have a favorite quote (or a favorite person) that inspires you?
I think my favorite quote comes from the Bible, "For all things there is a season." For me, my life has been a romance of travel, learning, and having fun. My season began when my grandmother taught me to sew. It opened me to a new world and experiences that I never expected. I do hope my "season" lasts for a long, long time.
- 25 March 2005