Charline Profiri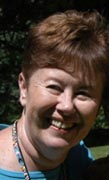 Children's Book Author
Arizona, USA
Where did you grow up and what were your favorite activities as a child?
I grew up in Phoenix, Arizona, the only child of a single mom. I had few toys, books or playmates. My favorite activities were playing jacks, solitaire, coloring and playing with horned lizards in the backyard.
Did you have any teachers who made a memorable impact on your education?
Yes, one very memorable teacher--my first grade teacher, Mrs. Barkley. I was the youngest child in the class, and didn't even know my ABC's when I entered her class. She taught me how to read, write, spell, add, subtract and even how to work a yo-yo. She was patient, loving and an excellent teacher. Mrs. Barkley inspired my lifelong love of learning and my career.
I regret never telling her how much I appreciated her before she passed away. So please don't wait till it's too late to thank the special teachers in your life.
What were your favorite subjects in school? Were any of these important for your career?
Reading, Writing, English and Spelling were my favorite school subjects. I excelled in those subjects and have used them extensively in my careers as a teacher and author.
What were your least favorite or most difficult subjects in school?
Physical education and Math were my most difficult school subjects. I learned not to like them because of fourth grade teachers who embarrassed me in class and crushed my confidence. As a result, I struggled to get passing grades in those subjects throughout the remainder of my school years. Friends helped me with Math homework, but I often failed tests and earned below average grades. I barely passed PE classes.
As a child, what did you want to be when you grew up?
After only one month in Mrs. Barkley's first grade classroom, I decided that I wanted to be a teacher just like her. Unlike many children who frequently change their minds about a future career, I never did. I still have the eighth grade essay I wrote on teaching as a career.
What subjects most prepared you for your career?
My college level education classes most prepared me for teaching. However, I learned much about what to do and what not to do from observing teachers throughout my school years. I've often joked that I never taught above the third grade because I couldn't do the math. That was close to the truth. However, the real reason I've taught only kindergarten through third grade is that I enjoy the spontaneity and uncensored imagination of young children.
What did you like most about your teaching?
Working with children whose minds were like sponges, soaking up new information. Knowing that I'd taught children skills they would use the rest of their lives was extremely rewarding. Watching the 'light bulb' flash on when a child mastered a new skill brought me immense joy. And I loved it when the children taught me something new.
What did you like the least about teaching?
The things I liked least about teaching were doing report cards, giving tests and grading papers. I banned red pens and pencils from my classroom because of their negative connotation.
Did you live in any other countries or experience other cultures or languages as a child?
Unfortunately, no. I lived in the same house and attended the same elementary school for eight years and the same high school for four years. I took Spanish for two years in high school but never used it afterwards, so I've lost all but a limited vocabulary.
After such a stable childhood, my life became quite mobile after I married. My husband was a mechanical engineer whose job was Project Manager on large construction sites around the US and overseas. During 29 years of marriage, we moved 16 times! After leaving Phoenix, we lived in LaCrosse, Wisconsin; Sacramento, California; Fair Oaks, California; Page, Arizona; Tucson, Arizona; Watertown, New York and Dhahran, Saudi Arabia.
Our two year stay in Saudi Arabia was a fabulous experience. We lived in a compound with families from around the world. Our daughters, ages 10 & 12 at the time, attended the American Embassy School where I volunteered, then substitute taught and finally took over a third grade class with only 14 students, all of different nationalities.
We had eight weeks of vacation a year during which we traveled in England, Germany, Italy, Switzerland, France, Austria, Liechtenstein, Greece, Singapore, Hong Kong and China. What an education and marvelous experience. History and Geography came alive for our family.
How did you get your first book published?
My new career as a children's author began after I took an early retirement from teaching. I'd always loved to write but had never taken the time. After joining the Society of Children's Book Writers and Illustrators, I took a university class in Writing for Children and joined two critique groups with several published children's authors. They inspire me and give numerous suggestions for improving my writing.
My first book, Counting Little Geckos, was actually the first story I wrote after retiring. I submitted it to an educational publisher who kept it a year before rejecting it! It was sent to several other publishers before The RGU Group offered a contract which I signed in August of 2003. The book is scheduled for release in the summer of 2005.
Since writing that first story, I've written nearly 100 stories and poems for children and have sold manuscripts to Highlights for Children, Pockets and My Friend. Although I love to write, I don't like writing cover letters, researching publishers and submitting my work. It's hard to get a story published when it's stashed in my files!
How do you find illustrators for your stories?
Thankfully, authors don't need to find their own illustrators. That is the publisher's task. They hire an illustrator they believe will complement and enhance the text.
Do you have any difficulty with illustrators having a "vision" different from yours about how the story should be drawn?
I've had one problem in that regard. One of my magazine stories was illustrated with geodes that had purple exteriors and looked like a string of grapes! I thought everyone knew what geodes looked like, and I'd described them in the story as "rough brown rocks...some the size of softballs, others the diameter of coconuts." I suppose the illustrator didn't read the story.
I've only seen the cover illustration for my book, so I can't answer about it. I'm naturally eager to see the illustrator's interpretation of my text, but will have to wait several more months. The cover is adorable though. See for yourself at www.cprofiri.com. I'm fortunate to have many children's author friends, and most of them have had favorable reactions to the artist's vision of their stories.
What are the most rewarding and most difficult aspects of being a published author?
The most rewarding aspect of being a published author is knowing that your story will be read and enjoyed by children. When my first article was published in Highlights for Children (which has a circulation of 2.5 million!), it boggled my mind to think of so many children possibly reading my words. What a thrill!
The most difficult aspects of being an author are the obstacles to getting published. Publishing is a very competitive business. Everyone thinks writing children's stories is easy. It's not, and finding the right publisher is even harder. Authors need talent, craft, persistence and patience.
Do you have any advice for the students reading this interview?
What is it you love to do? Find a way to make that your life's work or an often enjoyed hobby. Set goals and work to accomplish them. Never stop learning.
Do you have a favorite quote that inspires you?
I collect inspirational quotes, so choosing only one is next to impossible. Quotes are easy to recall reminders that give me great advice, strength, and encouragement. These come to mind most often:
"With God all things are possible." Matthew 19:26
"What you believe, you can achieve." Deborah Blais
"I think I can. I think I can. I think I can." The Little Engine That Could
"If at first you don't succeed, try, try, try again." Norman Vincent Peale
"You only have one chance to make a good first impression." Granny! & ?
This quote is posted on my bathroom mirror:
"Smile! You are looking at the person responsible for your happiness."
- 15 February 2005