Belinda He (贺 丽)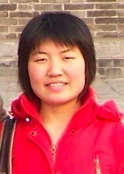 Tour Guide
Beijing, China
Where did you grow up and what were your favorite activities as a child?
I grew up in a village in the south of China, and my favourite activities were to play games with my friends. I couldn't name those games in English.
What were your favorite subjects in school?
In elementary school, my favourite subject was Chinese and Maths. When I went to Junior Middle School, my favourite subject was English. I started to learn English at that time.
What languages do you speak?
I speak Chinese, English, Spanish and a little bit French and Swedish.
How did you learn English? Was it difficult?
I learned English in School. I don't think it's difficult.
What did you dream you would grow up to be?
When I was young, I dreamed to be a doctor or a scientist when I would grow up.
What education and training were required to get the job you have today?
You need to pass the Tour Guide Certificate Exam if you want to get the job. Before taking part in the exam, firstly, you have to be fluent with English. Secondly, you need to study four subjects (History and Sighting in Beijing, the Sightseeings and Specialities all over the country, Tourism Business, Laws and Rules referring to tourism). At last some regulations referring to your education level. You should have graduated from senior high school. I graduated from college.
What do you like best about your job?
The tourists enjoyed the tour with me and we became very good friends afterwards.
How does your working environment compare with other jobs you could have?
Compared with other jobs, I think my job is much freer, more flexible and with more experience. This job teaches you well on how to get on well with different kinds of people and how to solve the problems in more efficient way.
What would you like the readers of this interview to know about your country?
I would like the readers of this interview to know that my country is a great country with more than 5000 years history and culture. Now the country is developing very quickly. I'm very confident with the future of my country. I'm enjoying my work and my life now.
Do you have a favorite quote (or a favorite person) that inspires you?
The first one: "If you think you can, then you can." Because it shows the importance of confidence. If you don't believe in yourself, who else can believe you in this world?
The second one: "When a thought of war comes, oppose it by a stronger thought of peace. A thought of hatred must be destroyed by a more powerful thought of love." (From the Baha'i Faith) I felt that I loved this quote when I read it at my first time. This is very challenging but very helpful for your relationships.
- 29 January 2008