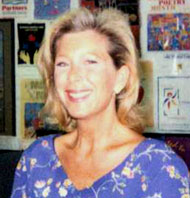 Community Health Director
Lodi Memorial Hospital
Lodi, California
My name is Carol Farron. I am the Community Development Director for Lodi Memorial Hospital. In that capacity, I am responsible for strategic planning; marketing; public relations; patient relations; advertising; the hospital's volunteer program; the hospital's chaplaincy program; the hospital's medical library; and, case management for the hospital's long-term care units.
I moved to Lodi, California ten years ago, from San Francisco, where I had worked as the community relations manager for St. Luke's Hospital; editor of the San Francisco Independent Newspaper; the public relations director for Catholic Charities; the consumer services manager for the San Mateo County Transit District, as well as the manger of that county's paratransit program.
My family has lived in San Francisco for five generations. I had the good fortune of living in Madrid, Spain from 1965-1976, so I am bilingual and bicultural. I speak several languages, including Irish. Every single one of my ancestors is Irish, and I visit with my Irish relatives yearly.
"Aim above morality.
Be not simply good, but good for something."
~ Henry David Thoreau