Capital City: New Delhi
Indian Flag: Three equal horizontal bands of orange (saffron), white, and green with a blue 24 spoked wheel, called chakra, centered in the white band.
Population: 1,129,866,154 (July 2007 est.)
Climate: Varies from tropical monsoon in south to temperate in north.
Natural Hazards:Droughts; flash floods, as well as widespread and destructive flooding from monsoonal rains; severe thunderstorms; earthquakes
People: Indo-Aryan 72%, Dravidian 25%, Mongoloid and other 3% (2000)
Language: Hindi is the national language spoken by 30% of the people; English is the most important language for national, political, and commercial communication; there are 14 other official languages: Bengali, Telugu, Marathi, Tamil, Urdu, Gujarati, Malayalam, Kannada, Oriya, Punjabi, Assamese, Kashmiri, Sindhi, and Sanskrit.
Religion: Hindu 80.5%, Muslim 13.4%, Christian 2.3%, Sikh 1.9%, other 1.8%, unspecified 0.1% (2001 census)
Administrative demarcations: 28 states and 7 union territories*; Andaman and Nicobar Islands*, Andhra Pradesh, Arunachal Pradesh, Assam, Bihar, Chandigarh*, Chhattisgarh, Dadra and Nagar Haveli*, Daman and Diu*, Delhi*, Goa, Gujarat, Haryana, Himachal Pradesh, Jammu and Kashmir, Jharkhand, Karnataka, Kerala, Lakshadweep*, Madhya Pradesh, Maharashtra, Manipur, Meghalaya, Mizoram, Nagaland, Orissa, Puducherry*, Punjab, Rajasthan, Sikkim, Tamil Nadu, Tripura, Uttar Pradesh, Uttarakhand, West Bengal
Area: total: 3,287,590 sq km; land: 2,973,190 sq km; water: 314,400 sq km
Above facts courtesy of: The World Factbook.
Text and photos courtesy of St.Mark's Sr. Sec. Public School, New Delhi.
---
Welcome to India!
Hi! I am Aastha. India has beaches on Eastern and Western coasts. India is famous for cultural heritage and tourist attractions. Indian tourist places like Taj Mahal, Red Fort, India Gate, Gateway of India are famous everywhere in the World. The Tajmahal, one of the Seven Wonders was built by Shah Jahan for his wife Mumtaz Mehal. India is famous for one more thing, dresses, sarees, western Salwar, Kameez, skirts, etc.
Hello. I am Anish. I am 12 years old. I am telling you about India, a land where elephants exist amicably. It is a sovereign country in South East Asia. It is the seventh largest country in the World and the second most populous country. Folk dances of India are performed by ordinary people rather than professional dancers. The wildlife of India is our national heritage and asset. India has a rich and varied wildlife. Various birds and wild animals are found in Indian forests. India's culture is marked by a high degree of symbolism. It has manage to preserve established traditions while absorbing new customs, traditions and ideas of invaders. India is full of festivals. Festivals bring joy in people's lives. They become happy. India's capital is Delhi. It is full of historical monuments. They are made by great persons. According to my point of view, Delhi is the BEST!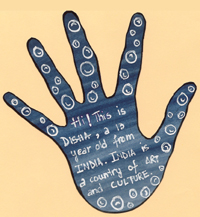 Hi! I am Disha, a 13 year old Indian coated with pride and care. India is the land of festivals and the people follow various religions. Some of the festivals celebrated by us are Holy, Diwali, etc. India is a country of Art and Culture. India is a beautiful country and the rich varieties of flowers found here make it even more beautiful. The national flower of India is Lotus. Music and dance is the soul of India. The line which fits perfect for India is "Unity in Diversity".
Hi. I am Dishpreet, a twelve year old girl from India. India is a very beautiful country. It is popular for its historical monuments, traditions, culture and diversity in every field. In India there is "Unity in Diversity".
Hi, I am Garima from India. Shah Jahan made Red Fort in 1648 in Delhi and shifted his capital to Delhi. It is built of red sandstone. India Gate is situated in Delhi. It was made in the memory of the soldiers killed in the Indo-Pak war. Mumbai, the capital of Maharashtra is the heart of Bollywood. It has the famous Ajanta and Ellora caves. Jammu Kashmir is like heaven in India. It has two capitals, Jammu and Srinagar in winter and summer respectively. The Taj Mahal, one of the Seven Wonders of the World, is situated in Agra and is made of marble.
Hi, I'm Guneet, a twelve year old girl from India. India is famous for its artistic works and historical monuments. It is the 7th largest country and is very beautiful.
Hi Friends! I am Kritika from India. I want to acquaint you all about Mumbai, the capital of Maharashtra which never sleeps. It is the heart of Bollywood and the Gateway of India stands tall.
Hi, I am Navya from India. I would like to tell you about my country. India is a vast country and is often called a subcontinent. There are many languages spoken in India like Hindi, Urdu, Punjabi, Gujarati, etc. Hindi is our national language. There are many religions in India. The major ones are Islam, Hinduism and Jainism. India consists of 21 states and 7 union territories. Delhi is our national capital. There are many cities in India like Lucknow, Kanpur, etc.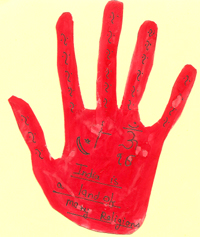 Hi! I am Naman from India. The Gateway of India in Mumbai was built by the British to welcome the King of England, George the Fifth, when he came to India. At Fatehpur Sikri Akbar, A Mughal ruler built a palace and a fort with a huge gate called the Buland Darwaza. The Bulard Darwaza is 134 feet high. The Sun Temple at Konark was built by King Narasimha Deva in Orissa. The temple is built like a big chariot attached to 24 horses. It is the chariot of the Sun god. The Meenakshi Temple is a very old temple in Madurai, Tamil Nadu. It is dedicated to Goddess Meenakshi and Lord Sundareshwara. The Outub Minar is 72 meters. It was originally 7 stories tall (now 5 stories) and built by Outub-ud-din Aibak in 1208 A.D.
Hi. I am Nimit from India. India is a land of various tribes and cultures. India is the habitat of various birds and the peacock is its pride. India is a secular country of various religions. India is a land of Hinduism where the sacred cow is worshipped. The lotus is our national flower. I am proud of my country and its rich cultural heritage.
Hi! I am Prajna from India. I am 12 years old. India has three holy books: Ramayana, Gita and Mahabharata. India celebrates many festivals. My favorite festival is Diwali. My goal in life is to save the Earth. Let's pledge to save our planet! India's national flag has three colours: green (prosperity), white (peace), saffron (joy). India is a united country. United we stand, divided we fall!!
Hello. I am Priyanka. I am from India. India is a very beautiful country. Tourists from all over the world come to visit. India is mainly divided into three physical regions: Himalayas, Good Plains of the North and the Great Plateau of the Peninsular India. India is full of freedom fighters who fought against the British and brought freedom. Mahatma Gandhi was the greatest of all. He adopted the path of non-violence and did many movements against the Britishers and finally succeeded. India today remembers him with respect. God Lord Krishna (the Divine Cow Herder) was also born in India at Mathura. Many drawings and sculptures of earlier times are there in India at Ajanta and Ellora caves. India is also a goddess.
Hello. I am Prerit. I would like to tell you about the folk dances of India. The folk dances of India are not only practiced in India but are famous all over the world. The folk dance of Bihar is known as Chhau dance which depicts enormous vitality and virility. The word "chhau" comes from the Sanskrit root "chhova" meaning shade. Masks form and important feature of this dance it is called "chhau" which means mask. The folk dance of Assom is called Bihu. Everybody from the young to the old, rich and poor take delight in the dance which is a part of the Bihu Festival. The Bundelkhand area of Madhya Pardesh, well know for its folk dance "Jawana" reflects the great joy and excitement of the people for a good harvest season. The dance is performed by both men and women. The folk dance of the Kashmiris is called Dumbal with long colorful robes, tall conical caps, studded with beads and shells, the menfolk of the Wettal perform it on occasion.
I am Sakshi. I am writing this to tell you about the dances in India. In Assam the dance is Bihu. Gujarat the dance is Garba and in Punjab the dance is bhangra. There are many types of dress in India: salwar-kurta, ghaghra, lehnga, sari, lungi, choli, and sharara.
Hi! I'm Sanyam from India. I'm 11 years old. India is known for its democracy, its national flag, secularism, culture (e.g., kathak), historical monuments (e.g., Taj Mahal), and its Pink City (Jaipur).
My name is Saurabh. Hi! I am from India. Most of the animal species of the world are found here and the rest are brought to the zoos. Lions and tigers both are found in India. India has developed wildlife sanctuaries and national parks to preserve wildlife. As India differs in climate, any crop can be grown here. India comprises deserts, snowy areas, hilly areas and plains and plateaus. As the environment is also good, any crop can be grown, suiting to the climate. Indian food is very different from other countries' food. It comprises for North Indian and South Indian food. The food is very spicy. Some special foods are Dosa, Idli, Vada, Sambhar and pani puri. The historical Nalanda University was built in India. Many students from all over the world came here to study. It was one of the best universities of the world at that time. However, it was closed a number of years ago because the university caught fire. Hemkunt is a tourist place whereas a research center. Many scientists come here to research plants in the valley of flowers. Sikhs also come here to the temple of the Sikhs.
Hi, I am Shubhankar. India, being a very large country, there are approximately 26 different languages spoken here. Hindi is our mother tongue and second most widely spoken language. The national flower is the lotus, national bird is the peacock and the national animal is the tiger. India is a rainbow of different cultures and religions live peacefully and practice their faith freely. India has a very rich tradition of music and dance. Many instruments such as harmonium and tabla originated in India. India is the 7th largest country in the world, it has the largest peninsula and the 3rd largest desert.
Hi, I am Sparsh from India. I study in SMS Meera Bagh. India is a secular and republic country. India is a land of many religions. India has a variety of flowers. The periods of peace are very few, so let us join our hands to make it new!!! Be a nice human being. Respect your religion. Be as beautiful as flowers and... Spread peace all over!
Hello! I am Taniya from India. I live in India's capital Delhi. One of my most favorite monuments in India is the large mosque. It was completed after 6 years. It is standing on a rock. It has arches decorated with marble frames. The Taj Mahal was built by a ruler of the Mughal Dynasty in the memory of his wife. It is built in white marble. It is one of the Seven Wonders of the World. The Qutub Minar is the highest stone tower in India. It is 725 meters in height and has 379 steps. It is a perfect example of a minar. There are Nagari and Persian inscriptions on it. Humayun's Tomb is a tomb with gardens. It has high arches and a double dome. It was built by a ruler's wife belonging to the Mughal Dynasty. Several rulers from the Dynasty are buried here. Jantar Mantar is an observatory consisting of masonry-built instruments. It is built with brick rubble and plastered with lime. It was built to see time when the watches were not discovered.
Hello! I am Tania. I study and live in India. I am a 13 year old Bengali child and love speaking this language. Our favorite sweet is rasgulla which is very spongy. In ancient times, India was also known as the Golden Bird. I study in St. Mark's School which is the best school. It has many extra-curricular activities. I love studying in this school. My class teacher is Meetu Aror. She teaches science. She is as well as a nice and beautiful teacher but also a very nice person. She is the best science teacher.
My names is Yatin. I live in India which is famous for its festivals: Holi, Diwali, Dussehra, Id and Christmas. India has many different people: Hindu, Christian, Muslim, Sikh, Marathi, Guyarati, etc. In India you can find temples, mosques, churches and Gurudwara.
Hello. My name is Geeta Rajan. I live in India, a country famous for its rich culture and heritage. I am the teacher of the students who told you about India. As they said, the capital of India is New Delhi. I live in this city. New Delhi is a historical place. There are many famous historical monuments in the city. Qutub Minar is one such monument. It is the tallest minaret. I am proud to say that Taj Mahal is in my country. I am sure you would have heard of Taj Mahal? It is one of the eight wonders of the world. Built by the Moghul Emperor Shah Jahan for his beautiful wife Mumtaz Mahal. This beautiful white marbled structure is a treat for everyone's eyes. No visit is complete for any foreign tourist without visiting The Taj Mahal.
There is so much to write about India, but I would like to tell a little about my school too. The name of my school is St. Mark's Sr. Sec. Public School. It is in New Delhi. The students of my school love to participate in various activities. They are confident, smart and intelligent. To know more about the school and the students log on to:
http://www.saintmarksschool.com/meera_bagh.htm
You will enjoy browsing the site. So, happy browsing!!!!
| Home | Contact Us | Credits | Sitemap |
© 2007 - Imagiverse Educational Consortium